Hire Us To Write Your Biography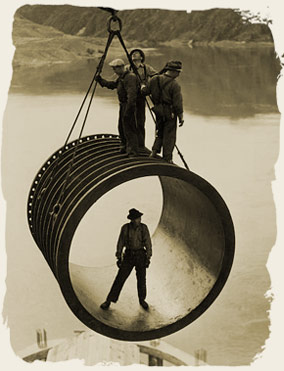 Four men, three standing on top and one standing inside, riding on large casing section of pipe suspended by cable as it is moved into position by a crane, reservoir in the background during construction of the Grand Coulee Dam, Washington, Created/published between 1936 and 1946 by the United States Bureau of Reclamation. Library of Congress Prints and Photographs Division Washington, D.C. 20540 USA
The Remembering Site is designed to allow you to easily and inexpensively write and publish your life story - the cost of registration is only $25 and the fee to print your biography averages about $20 per book. However, some prefer to hire someone to write your or your loved one's biography. In response, we have access to a cadre of wonderful, caring, and listening writers to write your life story. You may select from the following two options:
Q&A Format
You will be asked a series of questions from childhood to present day. Your answers will be printed into a question and answer (Q&A)-type biography. With 35 chapters and about 30 questions per chapter, the time involved to have someone interview you, scan and caption up to 50 of your cherished photos and prepare your biography will range from $10,000 to $15,000. You will receive 20 professionally printed books, just like you would find in a bookstore.
Biography Format
Others prefer a more biographic account that would not be written in a Q&A format. A professional writer will be assigned to work with you to create more of a traditional biography written by a ghost writer. The printed biography will include up to 100 cherished photos and important documents from your life. The cost of this service ranges from $15,000 to $30,000. You will receive at least 20 professionally printed books but could print into the hundreds to give to friends and loved ones.
About Our Writers
Our writers are professional, award-winning writers with extensive experience serving as biography writers, professional editors, and authors of several books.
For More Information
Please contact us at therememberingsite@gmail.com or 202 236 8400 if you have questions. Makes a great gift for siblings and children to hire an author to write a parent's life story.